In the heart of town, close to shops,
the Escapade Nature apartment has all the assets
and offers exceptional value for money
For one to four people
Here are 12 good reasons to book

1 / Charm for this spacious apartment
For a little privacy,
to partition the spaces,
the Escapade Nature apartment allows you to have
two rooms separated from the rest of the apartment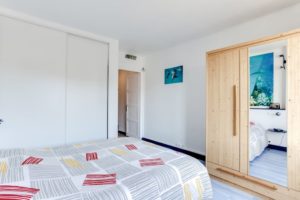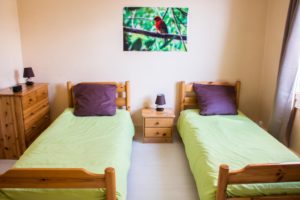 2 / An animal decoration, neat and original

An animal decoration, very original
To feel delighted during your stay in Annecy
The colors blend perfectly for a unique atmosphere.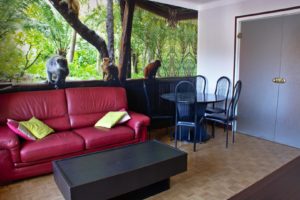 3 / Modulable: 1 to 4 people

Bedroom 1 with its 160 cm double bed and a quality mattress can accommodate two people
Bedroom 2 with two twin beds (which can be pushed together to make a double bed) can also accommodate two people
Ideal for family or business trips.




4 / An ideal location in the heart of the city
Located 10 minutes walk from the historic city center of Annecy and 15 minutes walk from the lake
via a family and green walk along the banks of the Thiou River
Escapade Nature is ideally placed to visit Annecy.
The colors and atmosphere already give a feeling of holidays
The alleys are charming and everything is on hand to make your life convenient and easy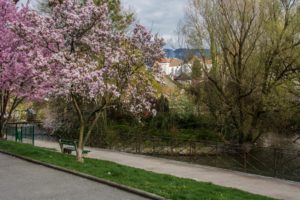 5 / An easy-to-find home

The Escapade Nature apartment is close to the train station and the Annecy Center motorway exit.
We send you a very precise and effective access plan for all reservations




6 / Easy to park
A closed garage nearby, in a closed underground car park, will allow you to park easily and safely during your stay.

7 / All amenities are close by

Close to the building:
   

Quality bakeries

   

Tobacco Office / Press

    Minimarkets

    P

izzerias

    R

estaurants

   

Pharmacy

    P

ost office






8 / Unobstructed view, calm and tranquility




Its elevated position offers both calm and a beautiful view of the mountains and the castle
The building is secure and has an intercom


9 / comfort and facilities make your life easier

Complete services:
Internet and wifi to stay connected
Washing machine not to be caught off guard after a task at the restaurant or vomit baby …
All the dishes needed to eat
Microwave, hotplates, oven, fridge, dishwasher
Flat screen HD TV and DVD player
Computer and printer for business trips



10 / An independent apartment for cheaper than a hotel
Note that to find a hotel in Annecy which has a correct price
without being too eccentric, it's difficult!
In the Escapade Nature apartment, you have everything on hand:
to cook,
to occupy yourself or plan your stay

11 / At the heart of the Annecy life

You just have to go out of the building to be in the heart of the city,
Pleasant enough when you're used to the quirky and soulless hotels!
In our apartment, you can feel directly the atmosphere of Annecy
and you blend in the landscape among the locals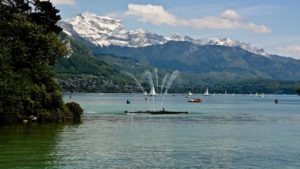 12 / Personalized advice

We know perfectly Annecy and its region.
We will advise you with great pleasure for
your visits, your outings, the most adapted shops,
preferred itineraries, good restaurants, etc.
We also put at your disposal many tourist brochures
as well as a web page dedicated to the region: what to see and what to do in Annecy.