From the accommodation Escapade Nature, you can reach the lake and the old town by taking the pleasant Louis Lachenal walk along the canal and you will cross pretty wooded passages. You will reach the old town of Annecy which makes it famous and earns it the nickname of « Venice of the Alps ».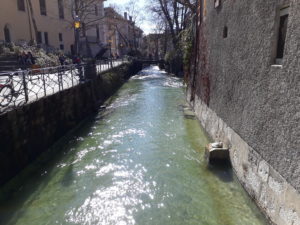 Do not hesitate to stroll through all the narrow cobbled streets (Place and rue Sainte Claire in particular) and under the arcades, typical of the Italian architectural influence with stone walls or ocher façades. You can also make the famous pictures of postcards representing the flower lock or the Palace of Isle (a former prison) located at the junction of 2 channels. A small steep path will take you to the Annecy Castle Museum which overlooks the old neighborhoods. Even if you do not visit (paying), go for the picturesque medieval charm of these narrow streets!
It is also in the old Annecy that are concentrated all restaurants (certainly tourist but for some really very good), all small souvenir shops and grocery stores, charcuterie and cheese dairy representative of all the good products of the region.
The Old Town Market is held every Tuesday, Friday and Sunday morning along the canal from 7am to 1pm.
You can then continue your ride along the lake. From the town hall, for example, take the left direction Pâquier (the huge lawn bordering the lake): cross the gardens of Europe, go through the famous bridge of love.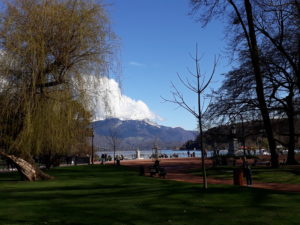 You can then go to the gardens of the Imperial Palace, the grand hotel of Annecy.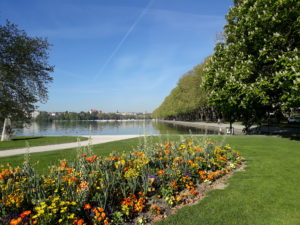 Then continue along the lake to the small port of Annecy-le-Vieux. You will surely have the chance to observe a family of swans, a parade of crested Grebe or a nest of coots!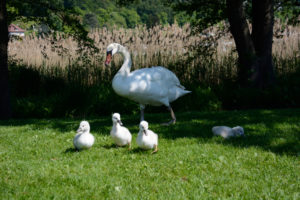 In passing do not hesitate to push the gate of the small marina and to walk on the pontoons. And if you still have the courage to continue your ride, the entire edge of the lake is landscaped to the entrance of Veyrier.